A Trio of Luxurious Glass Towers in the Heart of Downtown Portland
The Strand is made up of three elegant towers, with 187 single-story condos and 27 townhome-style residences. Homeowners enjoy breathtaking views of the city, river and mountains. Size range from 650 to more that 3,000 square feet. Amenities include hardwood floors, extensive use of granite, marble and tile finishes; elegant fixtures; and gourmet kitchens. Many units have fireplaces and ample terraces. Concierge service and secured underground parking complete the luxury appointments. The Strand Condos are adjacent to RiverPlace in the heart of downtown, overlooking the marina and only steps away from Tom McCall Waterfront Park.
Buying at The Strand
Start by browsing an interactive Market Report with photos of current, pending and previous listings going back over a year.
If you'd like more information on The Strand, or expert representation from a broker who specializes in Portland waterfront condo sales, please contact Kathy Quick, Principal Broker, Quick & Associates Real Estate at 503-730-0702.
Selling at The Strand
Waterfront One is a full-service, 1% listing program designed to help you net more from the sale of your Strand condo without compromising the essential services necessary for a smooth, successful transaction. Designed for savvy sellers who want to tap the considerable expertise of a local brokerage specializing in waterfront sales for over a decade, Quick & Associates offers you a streamlined selling process that puts more in your pocket.
Learn More About Living in Downtown Portland
Photos of The Strand Condos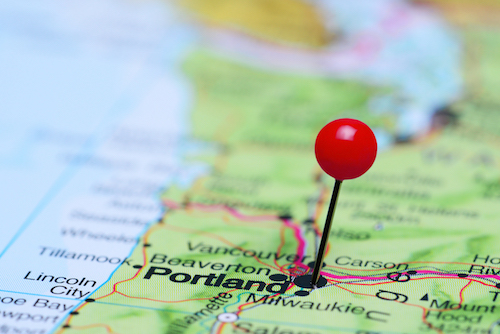 The Freshest Waterfront Listings Anywhere
SEARCH THE LATEST LISTINGS
The Strand Condos in Downtown Portland, Oregon
1900 SW River Drive, Portland, OR 97201
Downtown Portland: The Heart of The Rose City
Scattered among its grid-like streets are verdant green spaces, public art, food carts, retail stores, a world-class urban university and some of the most well-known and -loved restaurants in the city. Described as "compact and cozy," visitors and new residents will quickly become familiar with Portland's recognizable landmarks and easy-to-navigate layout.
Not far from The Strand Condos is Pioneer Courthouse Square—a prime gathering place for office workers, buskers, tourists, and everybody in between. The plaza isn't called "Portland's living room" for nothing: the midday pomp and circumstance of Weather Machine is only part of its routine energy. Ranked (by the Project for Public Spaces) among the very best public squares in the world, it sees 26,000 tread its signature bricks every day.
An everyday focal point, Pioneer Courthouse Square also makes one of Portland's busiest venues: More than 300 events—most of them free—go down here every year, from Festa Italiana and India Festival to the lighting of the city's Christmas tree (a cloud-splitting Douglas-fir, of course). Certain Friday evenings in July and August, "Flicks on the Bricks" turns the place into the biggest outdoor movie theater in the city.
You can explore more of living in Downtown Portland on The Urban Digest.
Award-winning chef and restaurateur David Machado takes his inspiration from the Riviera for one of his most popular restaurants, Nel Centro. Conveniently located near the Keller Auditorium, Nel Centro is in the Hotel Modera and caters to a variety of tastes, from little sliders to the most elaborate French dessert pastries to gorgeous dishes of root vegetables or calamari. Breakfast, lunch, Happy Hour, dinner and bar food are all represented on its expansive menus, backed by an aesthetic none can beat: Italian marble, blown-glass lights, huge windows and a beautiful outdoor patio.
Higgins Restaurant and Bar is a popular option for those headed to or coming from the Arlene Schnitzer Concert Hall – fondly known in Portland as the Schnitz. Making the most of the Willamette Valley's incredible range of veggies, berries, mushrooms and more, Higgins renown for its farm to table fare. Whether you're people watching in the main dining room or enjoying an ale in the bar, think charcuterie boards, salmon salad sandwiches, stew, mushroom risotto and more. Enjoy it before a show or just for its own sake.
Departure
525 SW Morrison Street
Portland, Oregon 97204
503-802-5370
departureportland.com
Located in luxury hotel The Nines, Departure Restaurant + Lounge juxtaposes its historic roots in the Meier & Frank Building with an ultra-modern interior for a truly unique dining experience. Departure is nothing less than a nexus of Portland's classic past and a glimpse into the city's future. As for its fare, Departure combines classic sushi, dim sum, stir-fry and more for a pan-Asian flair with American touches. The menu offers up rice and seafood as well as more unexpected dishes such as Brussels sprouts with chili, lime and mint.
We'd love to show the amazing waterfront condos at The Strand. Want more information first? Please feel free to call us at 503-730-0702.