Welcome to Waverly Yacht Club Condos
Amazing Views, Great Amenities and a Wonderful Location in Sellwood-Moreland
The Waverly Yacht Club community is comprised of fifty single-level condominiums and thirty townhomes in the Sellwood-Moreland neighborhood. You'll enjoy the outstanding views of the Willamette river, amenities including pool and spa. The private Waverly Marina is adjacent to the property. The idyllic location provides ready access to the newly-built Sellwood bridge with pedestrian and bike path, as well as the Springwater Corridor Trail. Local eateries offering fresh seasonal fare, boutique shops and antique stores and charming homes make Sellwood-Moreland one of Portland's most desirable neighborhoods.
Buying at Waverly Yacht Club
If you'd like more information on Waverly Yacht Club Condos, or expert representation from a broker who specializes in Portland waterfront condo, please contact Kathy Quick at 503-730-0702. Feel free to browse our interactive Waterfront Market Report.
Selling at Waverly Yacht Club
Our concierge listing program is designed to deliver the highest level of service possible, tailored with your specific needs in mind. You'll receive expert representation from a team of experienced professionals dedicated to your complete satisfaction.
Waverly Yacht Club Condos: Gallery + Details
SEARCH THE LATEST LISTINGS
Waverly Yacht Club Condos in Sellwood-Moreland
Southeast Marion Street, Portland, OR 97202
Listings Updated Every 15 Minutes
Welcome to the Sellwood-Moreland Neighborhood
S.M.I.L.E. — you're in the Sellwood-Moreland Improvement League (Sellwood.org). Sellwood and West Moreland form the extremely livable Sellwood-Moreland neighborhood. Renown for its walkability and bike-friendly streets, Sellwood-Moreland shoulders the eastside of the Willamette river and is bordered by the Eastmoreland, Milwaukie and Brooklyn neighborhoods. Landmarks include the newly-built Sellwood Bridge, Oaks Amusement Park, Sellwood Riverfront Park and Oaks Bottom Wildlife Refuge. Casual eateries, upscale antique shops and other attractions make Sellwood-Moreland one of Portland's most desirable neighborhoods.
Established in 1990, Portofino is SE Portland's longest standing Italian Dining institution, never resting on its laurels and constantly striving to be it's best. It is a cozy neighborhood trattoria in the heart of Sellwood that utilizes fresh, local ingredients to create Italian-inspired dishes.
Ingredients sourced from local providers and many from our own gardens (approximately an 1/8 acre) become the tools our chefs use to create a menu rooted in Italy, but also draws from the Mediterranean and Pacific Northwest. We make almost everything from scratch "in-house" from pastas, sauces, cured meats, sausages, cheeses, etc.
Portofino's has Portland's 2nd largest wine list and our wine program will enhance each guest's dining experience by offering wines primarily from Italy, Oregon and France, but several other regions. A full bar is also available for diners, with many house specialty drinks, as well.
Family-owned and operated, the hole in the wall setting at this quaint Sellwood cornerstone evokes the tiny local sushi bar of Tokyo. Saburo's restaurant was built on founder Saburo Nakajima's vision which include a kitchen providing exciting and wonderful food both generous and affordable to all.
The restaurant rely on the talents of many, from our amazing chefs, through the entire staffs who contribute so much of themselves everyday. We continually strive to produce original and wonderful food, to value and respect each other, and the people we serve. Spreading the kind of community we want to have take hold in the world.
Since our opening in 1988, we continually strive to provide consistently fresh, innovative , healthy food using only the freshest ingredients available featuring Japanese dishes both traditional and contemporary, including a wonderful selection of appetizers, salads, sushi , teriyaki and more.
Heidi's sister Evelyn, a sculptor and artist in residence at Lincoln High School, joined the family business in 1980 "just for a year." Business was booming, and Heidi and Jeff needed someone to expand the dessert menu while they focused on the demanding day-to-day operation of the cafe. Evelyn quickly realized that chocolate, sugar and the enormous abundance of fresh Pacific Northwest fruits were just three more mediums in which she could sculpt. More fleeting, perhaps—in the past, her sculptures had rarely disappeared into people's stomachs—but certainly no less worthwhile. More than 30 years later, her beautiful and tasty creations still can be seen in Papa Haydn's dessert cases.
It is the dessert case that is the heart and soul of the restaurant: The magic takes place in the interaction between guests and the creations in the case. To gaze into the case and its sweet treasures is a bit akin to finding yourself magically transported back to Christmas morning at the age of 7. Your mouth opens, your taste buds awaken and you find yourself pointing to first that torte and then that tart and—oh!—what about that Boccone Dolce?
.
PORTLAND'5 CENTERS FOR THE ARTS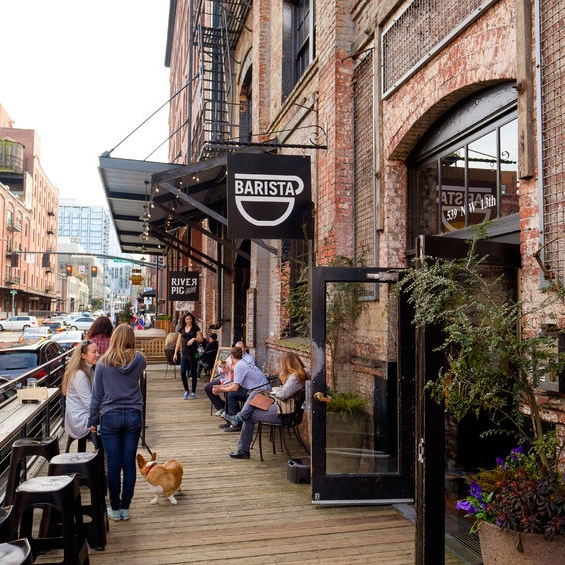 We'd love to show the amazing Waverly Yacht Club condos in Sellwood. Want more information first? Please feel free to call Kathy Quick, Principal Broker, Quick + Associates Real Estate at 503-730-0702.